Photoshop and Lightroom are excellent images and photos editing software, but they are also expensive, specially when you compare them to what you can have access for free like GIMP or RawTherapee. But not everything seems as nice as you would think ...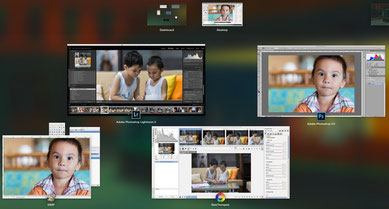 The problems of a lot of free editing images and pictures software like GIMP or RawTherapee, in my opinion, is they are very often made by geeks and nerds who do not care about the ergonomics nor the learning curve of the end users.
Do not get me wrong, some of them are truly excellent and very well made, but we can count that only 15 to 20 % of all free photo editors are in this case and strangely on the overhand, the free online photo editors are a lot better in this regard.
The huge popularity of Photoshop and Lightroom other than the speed processing, is about the ergonomics and the simple name given to each tool, which often mean what the tool is exactly intended to do, where in the free photos editing software, you might re-think many times and try out many times what is the meaning of the name or the icon of a given tool and what it is supposed to do ... and when you finally find out, it's easy to forget where it was placed on the user interface.
1) Photoshop versus GIMP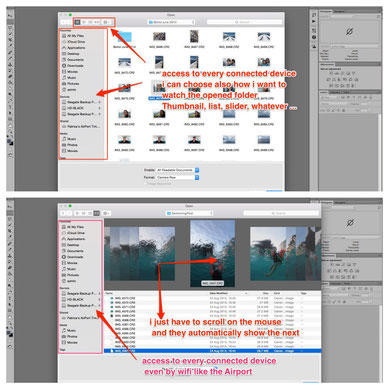 For example let's compare Photoshop versus Gimp on the very basis of the ergonomic.
Everything start already the way you can open a picture between Photoshop and GIMP, yes it start already there with the problems too!
With Photoshop, i just do File/Open... a window appear with all what my computer have and is connected to, even the hard drives connected by WIFI.
All the images are in thumbnails "mode" allowing me to see exactly what i will open just by browsing those thumbnails. A simple click on the chosen thumbnail will open immediately in Photoshop and i can start to work on it, done (and i do not even speak about the "Drag'n Drop")!
With GIMP on the overhand it is already a more complicated situation with it's very outdated user interface, but like Photoshop i do File/Open... a window open and, surprise..
First at all you do not have access to any external connected hard drive even by USB, you need to have your photographs on your main inboard hard drive, which nowadays, with the huge size of the pictures we almost never store them "locally"!
Secondly it open a "navigation" window which look like it was made from the old Microsoft Windows 3.x from the 1990s and the pictures are not showed in thumbnails, but instead listed by file name, where you need to click each single file to see the thumbnail appear in the "viewer" on the right side of this window, you want to see the next thumbnail, click on the next file, next ? click again on the next ... and if your folder got thousands of pictures? It's your problem, not mine ...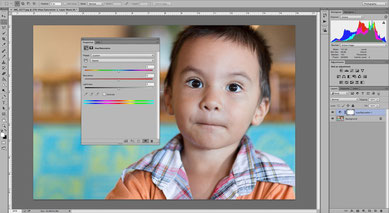 Anyway, let's say you got lucky, and your picture you would like to edit was the first showed by the pseudo viewer of GIMP, like that we can continue with the GIMP vs Photoshop.
Now the tools and the difference on how they act or interact with the user between GIMP and Photoshop: For example if i click on Hue/Saturation in Photoshop, a little window, in focus, open immediately with the tools for hue and saturation, plus the cursor transform itself immediately in a eye-dropper to select the color i want to change and if i move one of the sliders showed in the Hue/Saturation window the picture change in live instantly and smoothly, you cannot visually see any transition... done !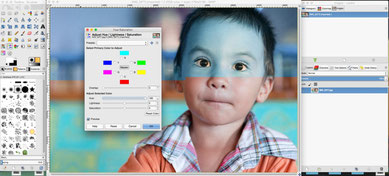 In an other hand with GIMP, i clicked on the Hue/Saturation and ... nothing happen, click one more time, still nothing happen, so i thought that the little window with the hue and saturation tools was opened at the back of the main window, search at the back ...
You bet ? you loose ! because there is no window at the back too!
Puzzled i click on another tool, still nothing, click back on Hue and saturation ... nothing. Somehow i clicked on the picture i want to edit (the picture itself), and a miracle happen, the little window with the hue and saturation tools appeared ... i tried all the tools and all are the same way! You click on the tool icon you want to use and you need to click again in the picture you are editing to get the tool to appear. It does not make sens.
Speed processing of GIMP, do i really need to speak about this? By just looking at the screenshot above, you can see how slow it was. I got plenty of time to take this screenshot during that GIMP was processing the image line by line with the hue on my picture... Stunning speed isn't it?
2) RawTherapee versus Lightroom
This time Lightroom versus Rawtherapee, first at all with RawTherapee the menu File/Edit/View/ and so on you can forget about it, it does not exist ... at all!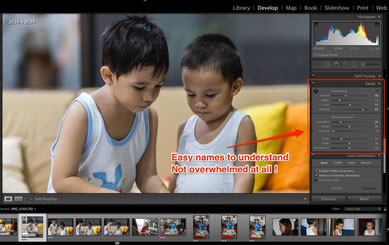 But just for example, just one example this time, if not, tomorrow you will be still here to continue to read my "prose".
So let's pretend that you want to remove some noise in a photograph you want to post processing.
With Lightroom you go to "Details" and move some cursors under "Noise Reduction" and the names given to the different tools are Luminance/Detail/Contrast and below three more Color/Detail/Smoothness, which means exactly what it is supposed to do even without trying them, and i was pretty sure about what they would do the first time i saw those names, and i didn't get any surprises when i moved those sliders.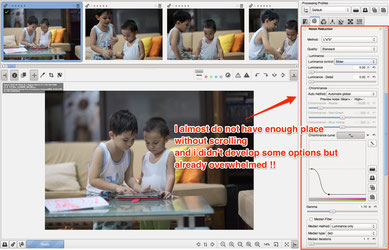 With Rawtherapee in the second tab you go to "Noise Reduction" and here start the problems ...
First thing you see is "Method" L" a' b". What does mean L", a" or b" for a beginner? Seriously? they are presenting in first sight the tab Lab?
Immediately after i got 3 sliders with the word "Luminance". Again  after i got Chrominance Method with also three chrominance sliders and a box for the curve slider + the Gamma slider + the Median filters, + iteration, + method + type, etc ...
It is extremely precise but too much is too much, let get things a lot more simple with simple names which have a meaning for everyone and that's all, i do not want to spend 30 minutes just to blur some noises! Give the option to do it in a simple way, at least.

3) Conclusion
GIMP or RawTherapee are made by a community who spend a lot of their own time to develop and maintain those software.
Those kind of communities are happy to develop new options, new things, happy to play with the code source and develop their own programmer's skills and usually do not want to get back in the old coded part of the source where it can be messy, so over all these old free software are plagued with slow processing, and a huge list of bugs needed to be fixed. In my opinion those old free photo editors (and not only them) need to be re-encoded from scratch and a true ergonomic designer should lead the group.

At the end who will truly use this kind of free image editors?
I will tell you: on a 100% scale, may be 1% of professionals and surely more than 99% of amateurs and beginners which will never use more than 30% of the tools available when they finally feel comfortable with the software, even the few professionals who are using it!
What is funny, it's when you see on their website : 10 000 000 downloads last year (for example) yes all of us download it because it is FREE.
But truly how many of us use it on the very every need ? May be 0.01% ?
How many download it, open it one or two times and never use it again before the next update ?
I will tell you : 99.99% ! and the worst is the day we update it, because we want to believe in a big improvement, so we try it few times in the next hours after the update and never open it again until we remember we have this free photo editor on our hard drive 10 month later.
So ten months later, we update it and try it again for few hours, disappointed again we forgot it, and so on...
Some new generation of free photo editing software like PhotoScape X, Pxlr or Fotor are a lot better in many ways than the antic and archaic GIMP and even better than RawTherapee, Photoshop or Lightroom in some ways too, and the day that those new generation of free photo editors will be able to open and process RAW images, this day can be a knock down for Lightroom and RawTherapee.
Why i said that ?
In one word : Ergonomics, and those new generation of photo editing apps understood very well this word! Even Lightroom and Photoshop are ... ergonomically outdated!

I can hear already the open source community telling me, no, not "telling" but shouting at me about PhotoScape, Pixlr or Fotor to name only them:
- But they are not open source !

- Guys, I agree! But... They are a lot better than you, and like you they are free... Period!
---
You may also like these related articles.
---
If you like this page let me know it in a comment below (read the rules) and don't forget to share it now on your favorite social media.
Thank you for your support.
---